CME Group Foundation Hosts CPS/CCC Chicago Roadmap Luncheon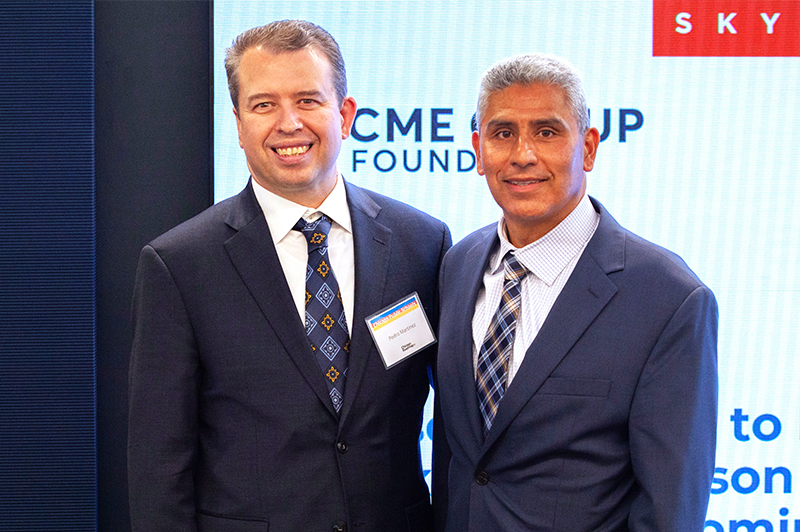 CPS CEO Pedro Martinez and City Colleges Chancellor Juan Salgado at the CME Group Foundation Chicago Roadmap luncheon.
On June 6, CME Group Foundation hosted a luncheon for corporate partners to learn about the Chicago Roadmap, an unprecedented strategic partnership between Chicago Public Schools (CPS) and City Colleges of Chicago (CCC), to support students along a seamless path to and through college on the way to their chosen careers.
The luncheon featured a fireside chat with CPS CEO Pedro Martinez and City Colleges Chancellor Juan Salgado, introduced by CME Group Foundation Board Chairman Charlie Carey and Eva Giglio.
Last year, CME Group Foundation proudly provided a $1 million five-year grant to the Chicago Roadmap, as it complements our focus on closing educational equity gaps, while ensuring local students have access to resources that can help ensure successful paths from classroom to career. There are still opportunities for the philanthropic community and corporations alike to play a critical role in the Chicago Roadmap.
If you are interested learning more about how you can help the Chicago Roadmap, please contact Sadie Stockdale Jefferson (sstockdale@childrenfirstfund.org) or Rhonda Brown (rbrown365@ccc.edu).
We Are Now on Twitter
Follow us at @CMEFoundation for all the latest news and resources from the Foundation. Use #CMEImpact in your tweets or tag our handle to let us know of the great work you're doing so we can help promote it.
Share Your News with Us
Do you have an upcoming event or work that you would like featured in the newsletter? Reach out to Lauren Whalen (lauren.whalen@cmegroup.com) with the details and timeline.