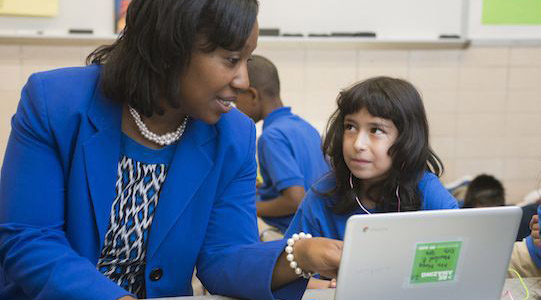 CME Group Foundation helps today's students keep pace with dramatically evolving technology, creating a workforce for the future that is equipped with the skills to meet tomorrow's global challenges. By bringing together the brightest minds in education to generate fresh approaches to math, computer science and personalized learning, we are sparking system-wide change that benefits all students, from cradle to career.
They will shape the future of the world's most important industries, including our own, so we give them the tools they need to achieve their full potential.
Our Goals
As part of our work at CME Group Foundation, we strive to achieve the following goals:
Empower innovative partner
Create Change through collaboration
Work to transform systems
Early Childhood Education Program – Early Math
In 2019, CME Group Foundation awarded $1.88 million in new grants to support early math education programs for young children from low-income communities in Illinois. These grants will be used for programs throughout the next two school years.
The Foundation's Early Math Initiative is designed to provide educators with the knowledge, confidence and tools to teach and inspire children from infancy through elementary school about the world of mathematics. These grants bring Early Math Education Initiative funding to a total investment of $10.8 million since the program's inception in 2009. The initiative bolsters professional development for teachers of young children, improves family engagement in the learning of young children and aims to influence early childhood mathematics policies.
For more information, see the Grantmakers for Education Case Study on our program:
A Decade in the Making: Early Math Education Initiative Seeks Broad Impact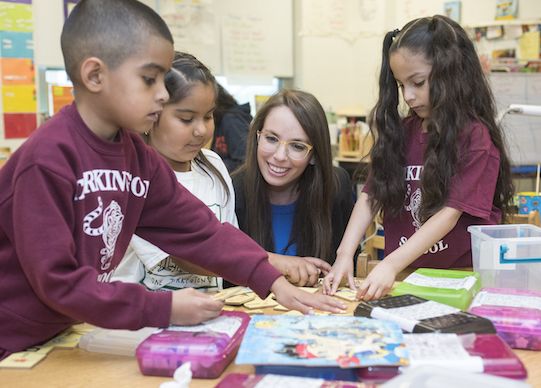 CME Group Foundation 2019-20 Early Math Initiative
K-12 Education Priorities
The Foundation helps to prepare K-12 students for success in college and careers through the use of technology to personalize learning and computer science education.
CME Group Foundation is the largest private funder of Chicago Public Schools' Computer Science 4 All (CS4All) initiative. The Foundation is pleased to support several other organizations providing research and data analysis for CS4All.
In addition to K-12 computer science education, the Foundation supports professional development for school leaders and teachers on improving student outcomes through using technology to personalize learning.
College and Career Success
In 2019, CME Group Foundation launched its new Foundation Scholars Program. Twenty-five students received a scholarship of up to $20,000, renewable for three years. The program is open to low-income, underrepresented minority students majoring in finance, computer science, information technology, math, cyber security, data science, statistics or financial engineering. For university partners with 4+1 programs (bachelor's degree in a technical field and a one-year master's in finance), students can apply for three years of support in junior, senior and masters years.
CME Group Foundation's 2019 partner schools are:
DePaul University
Illinois Institute of Technology
Northern Illinois University
Loyola University Chicago
National Louis University
St. Xavier University
University of Illinois Urbana-Champaign
Stevens Institute of Technology (New Jersey)
In addition to the new scholarship program, the Foundation provides operating support grants to a small number of nonprofit organizations that work with Chicago's low-income and minority students to insure post-secondary degree or certification attainment and transition to a strong first job in the field in which they majored; and research and policy organizations serving that goal. The select organizations have a track record of success in providing research that is needed and utilized by the field and/or successful policy work that has advanced priorities of the post-secondary and career success fields.
CME Group Foundation's 2019-20 College and Career Success Portfolio
The Foundation's College and Career Success grantees work with Chicago's low-income and minority students to ensure they enroll and succeed in post-secondary education and transition to strong first jobs. The foundation also supports research and policy organizations whose work advances post-secondary and career success.