2022 Highlights from Computer Science Grantees
CME Group Foundation is proud to support equity in access to CS courses and programming both in-school and out-of-school. There have been many accomplishments in 2022 from our CS grantees — here are some of the most recent.
Project SYNCERE was featured on ABC5 Chicago for their "ENpowered Games" STEM Challenge, a 10-week engineering workshop that aims to get underrepresented populations into STEM careers.
CPS's Curie Metropolitan High School created a robotics program to help students returning to school post-COVID shutdown. The program helped students meaningfully reconnect to school during very challenging times for our youth.
Union League Boys and Girls Club won the Navy Great Lakes Regional Competition in Underwater Robotics on April 9! They competed in the International SeaPerch Challenge at the University of Maryland on June 4.
Chicago Public Schools and Chicago Learning Exchange held their first annual All-City Spring Robotics Showcase on Saturday, May 14 at Truman College.

400 students and coaches from CPS and area schools attended.
32 robotics teams participated: 17 from middle school, 12 from high school, two community teams and one from the suburbs. 21 schools signed up to start a new robotics team.
16 student workshops were offered in Fun Robot Configurations, Media/Video Production, Block Coding & FLL Strategy, Odometry & Path Planning in Robotics, and more.
Eva Giglio and Foundation Scholars Jovad Uribe (University of Illinois-Chicago) and Anthony Huerta (University of Illinois Urbana-Champaign) participated on a Computer Science and Robotics panel. During the panel, Foundation Scholar Anthony Huerta reflected that his love for Computer Science even started with video games and how he wanted to learn more about them. This summer he is interning at Amazon in Seattle and will be a senior studying Computer Science next year at U of I.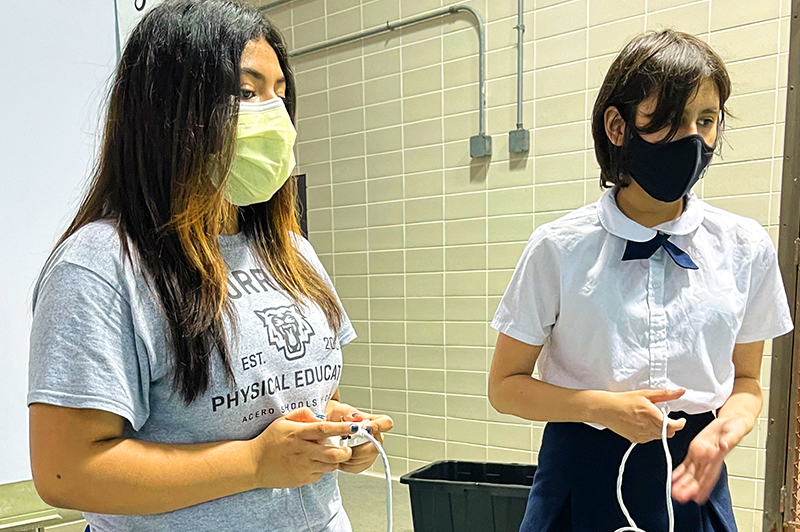 Caption: Members of the Union League Boys and Girls Club as they competed in the International SeaPerch Challenge at the University of Maryland on June 4.
Code Nation hosted its Hackathon event on Saturday, May 21, for the first time in two years.

73 high schoolers and 50 volunteer tech professionals spent the day at Discovery Partners Institute, building a project around the theme "Best of Chicago."
Classmates, new friends, and mentors worked together to plan, design, and code a new website from scratch, which they presented at the end of the day to a panel of judges. As a participating student, Fabian (11th grader), reflected: "It's cool because we started with nothing and now we have a whole website!"
The winning project in the first-year competition was an interactive website that showcases what to do in Chicago during different seasons. In the advanced competition, Team Bloom won for a website that predicts a user's ideal day in the city based on their interests.
This work would not be possible without the entire CS providers ecosystem in Chicago coming together to provide diverse, robust, and well-rounded opportunities for students – from in-school to after-school, weekends and over the summer. Our goal is to saturate the city so students have the access and ability to learn about CS and find a pathway for themselves if they are interested.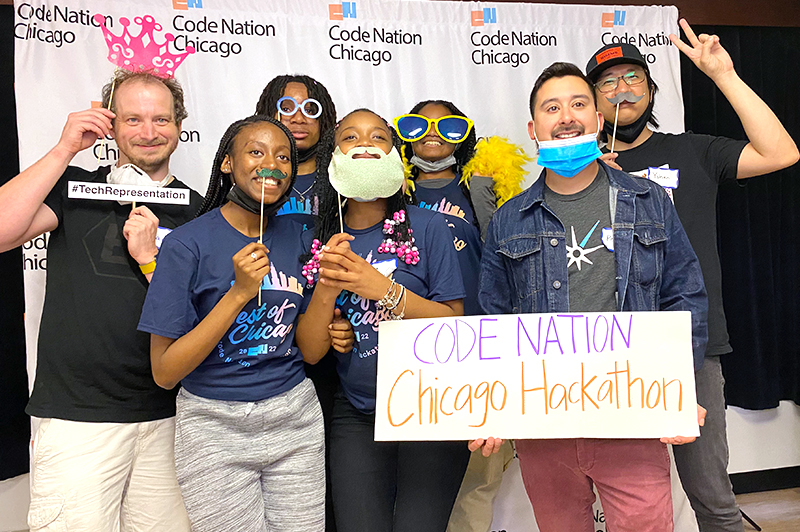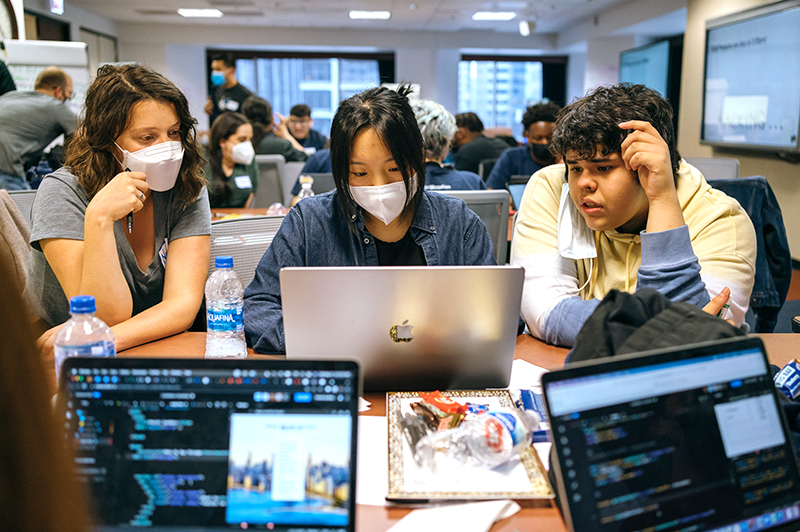 Caption: High school students and technology professionals joined forces for the Code Nation Chicago Hackathon at Discovery Partners Institute on May 21