For educators and students, 2020 has brought unprecedented challenges. As the year draws to a close, we highlight CME Group Foundation grantee organizations and scholarship recipients who have shown impressive resilience, strength, and creativity in a unique environment. Particularly, as we kick off Computer Science Education Week (Dec. 7-13, 2020), CME Group Foundation is proud to support expanding computer science and STEM education in our community.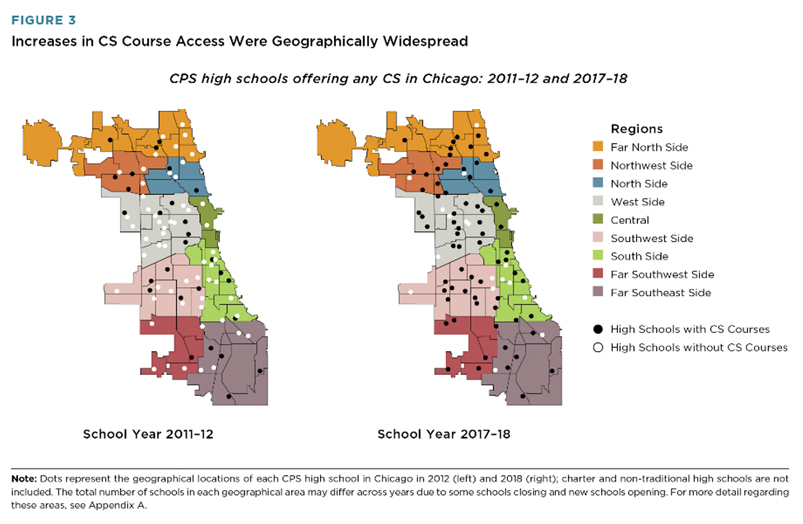 New Study Shows Trends in Chicago Computer Science Education
In 2013, Chicago Public Schools (CPS) led the nation in the expansion of computer science (CS) education with the CS for All (CS4ALL) initiative, a CME Group Foundation grantee organization, and later made computer science a graduation requirement.
A new study from the University of Chicago Consortium on School Research and the Federal Reserve Bank of Chicago analyzes results from the expansion of computer science programs in Chicago Public Schools (CPS) high schools using data from more than 311,000 students in 108 CPS high schools between 2014-2018.
The study found enrollment in CS courses increased for all students, regardless of race, gender, and socioeconomic status, after the adoption of the graduation requirement. However, the rate of increase differed across student groups, largely related to differences in access to CS courses.
Key findings include:
Access to CS increased steadily following the announcement of the CS4All initiative; by 2018, more than 90 percent of students attending CPS high schools were enrolled in a high school that offered at least one CS course.
Black students are the most likely student group to take computer science courses when access is available.
Female students are less likely than male students to take computer science courses, even within schools offering CS. This enrollment rate difference widened even after the increased access to a computer science curriculum.
New Study Finds Broad Support for Early Math Teaching Credential in Illinois
As many students and teachers adjust to a virtual learning environment, the change has highlighted the importance of one area that should be a priority for school districts and organizations supporting education: elementary math education. Research shows that effective early math instruction is critical in laying the foundation for future success.
One key component is professional development for elementary school teachers. Recently, CME Group Foundation supported a research study by UChicago STEM Center on the need for new teaching credentials for Illinois elementary school teachers who would like to earn a specialty in teaching mathematics.
The study reveals that statewide, about 85% of Illinois school district leaders and about 90% of school leaders indicated that the state of Illinois should offer the elementary mathematics teacher and specialist certification credentials.
CME Group Foundation 2020 Year in Review
As we close out the year, take a look at CME Group Foundation's 2019-2020 highlights and key results.