CME Group Foundation Scholars: Alumni Spotlight
In 2019, CME Group Foundation established a scholarship for college students studying finance or technology. While many scholarships are aimed at helping freshmen start college, the CME Group Foundation Scholars Program is targeted to ensure underrepresented minority sophomores, juniors, and seniors can finish their four-year degree. Winners can reapply for up to three years of support.
The program awards the students with an annual scholarship of $20,000. Foundation Scholars also have the opportunity to attend career panels, network with CME Group employees, and learn about internship opportunities. Many Scholars go on to intern or work full-time for CME Group.
In 2020, CME Group Foundation renewed 21 Scholars and added 15 new Scholars to the roster. We also hosted several virtual "lunch and learn" events for new Scholars.
Check in with five outstanding alumni of the CME Group Scholars program who are succeeding in their careers, even in a challenging year: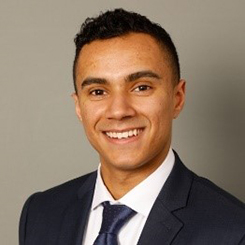 Christopher Becker
DePaul University '19, Finance
I'm currently working at J.P. Morgan in NYC as an investment banking analyst. I interned at CME Group for two and a half school years (the years of 2017-18 and 2018-19 plus the fall of 2019). I worked in the Clearing House on the Risk Management team.
The CME Group internship is something I get asked about in almost every interview I have. People are really interested in the nature of the work as well as my understanding of financial instruments because of my time with the team.
My goals for a career are to have a meaningful impact for disenfranchised groups, provide business opportunities to people whom otherwise wouldn't get them, and to become a mentor to as many marginalized young professionals as I can.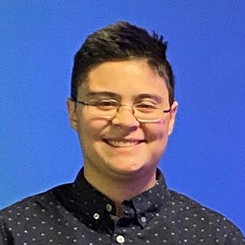 Alisa Carillo
Northern Illinois University '18, Computer Science
I am working at CME Group and it will be two years in February. My position is Quality Assurance Analyst II, also known as a QA Analyst II. I had two internships at CME Group. One internship was with Desktop Support, where I helped with desk steps and configuring laptops for new people. I also worked on the Trade Executions Team under the Falcon Team. While I was there, I learned Python and created a Python script to help go through feature files and create a report.
The scholarship really helped me in several different ways. For me, being a scholarship recipient also helped to get an internship at CME Group. With those internships, I was able to build some great relationships with people that I keep in touch with. I think, with those connections, I have been able to continue working at CME Group and help other interns make those connections too.
My career goal is to be a software engineer. I would like to be able to develop code and help improve on current code structures. Currently, I am working on making this transition with the help of my manager and fellow coworkers.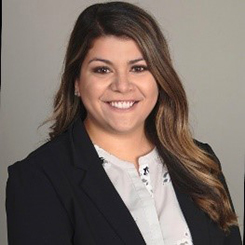 Alexis Gonzalez
Northern Illinois University '19, Finance & Marketing
During the week of graduation, I accepted a full-time position with Edward Jones for a financial advisor position. I was previously an intern with the company back in 2018. I always knew I wanted to pursue a career that was half working with people and half independent work. I am confident that Edward Jones offers me both of those things and fits my career aspirations.
I completed all necessary training for the position earlier this year which included passing my SIE, Series 66, and Series 7. I am happy to share that I have recently launched my own practice as a financial advisor in Geneva, IL. Although it is not an easy role, I am confident in my ability to pursue this type of job despite many others my age not understanding.
I will always be eternally grateful for opportunities that the CME Scholars Program offered me. I am proud to say that I didn't take the award lightly. I used it to not only advance my education but pursue a career that I love. This award was a pivotal point in both my career and educational journey and is one that I will always be grateful for and those that made it possible.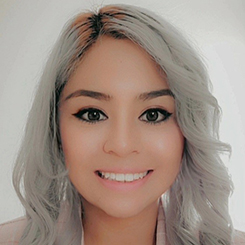 Magda Nicholas
Northern Illinois University '19, Accountancy & Finance
Currently, I am a full-time employee for PricewaterhouseCoopers LLP. I am a tax CPA associate consultant.
I am thankful to CME Group for choosing me as a scholarship recipient to further my education at NIU. I am a first-generation university graduate. I did two internships with CME Group, one in the summer of 2018 and the second one in the winter of 2018. I was in the Technology Department in the Infrastructure and Operations team under Mike Doyle and Nancy Kayzar.
Because of the internships, I was able to develop my knowledge of Power BI (a business analytics tool) and implement automation tax reports for our clients at PwC. I have also been able to use my coding skills and fix software issues with PwC technology.
My career goal is to go back to graduate school and get a law degree. I want to further my career as a mergers and acquisitions consultant, which will increase my knowledge of law. I would like to further my career with PwC and become a Director.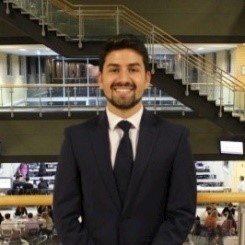 Sergio Pedroza
Northern Illinois University '19, Finance, summa cum laude
I am currently working at UPS as an Account Executive. The CME Group Foundation Scholarship helped me tremendously by providing my family and I financial relief for the remainder of my academic career.
I had worked relentlessly throughout my time at community college to save up for NIU. Because of this scholarship, I did not have to work during my time at NIU, thus allowing me to be a part of several organizations. These include: Student Analyst for the Student Managed Portfolio, Treasurer for the Investment Association, Mentor at the Latino Center for the METAS program, member of the NIU Men's Club Soccer team, and volunteering at the Communiversity Gardens.
My participation in these extracurriculars set me apart from the majority of students who applied for similar careers and, ultimately, led me to receive multiple job/internship offers. I am incredibly grateful and appreciate the follow-up.
My career goals are to move into a management position at UPS, and I would love to create/be a part of a mentorship program for underprivileged students.


Learn more about the CME Group Foundation Scholars Program