Christopher House Adapts to Virtual Learning Environment
CME Group Foundation grantee Christopher House works to close opportunity gaps for thousands of Chicago's low-income children and families with its innovative continuum of care approach. This includes personalized education; immersive family supports; individual, family, and crisis counseling; parent, child, and youth support groups; doula services for expectant mothers; parent programs; and more.
This robust, holistic approach allowed the organization to quickly react at the outset of the COVID-19 crisis and adapt existing programming to meet the unique needs of its 4,100 members. Through maintaining, adjusting, and even enhancing support services during this crisis, the Christopher House team was able to create a successful remote learning experience using its existing relationships and knowledge of each scholar's home life.
For example, many Christopher House scholars lacked access to basic technology at home. The organization addressed this issue by sending each student home with a Chromebook and support in accessing free internet for their tailored online lesson plans. As a result, 100% of Christopher House scholars now have access to the at-home technology needed for success and a remarkable 95% of scholars complete assignments regularly.
Based on our success in virtually supporting our community, Christopher House recently made the decision to move our early childhood programs to a remote format for the first time ever.
Kristin Novy,
Christopher House Elementary School Principal
"In order to treat all of our educators equally and keep our families and staff safe, we decided to provide all of our programs in a virtual setting this fall. We learned impactful lessons from last year and look forward to finding new ways to continue engaging with our community and help our scholars excel in this new normal."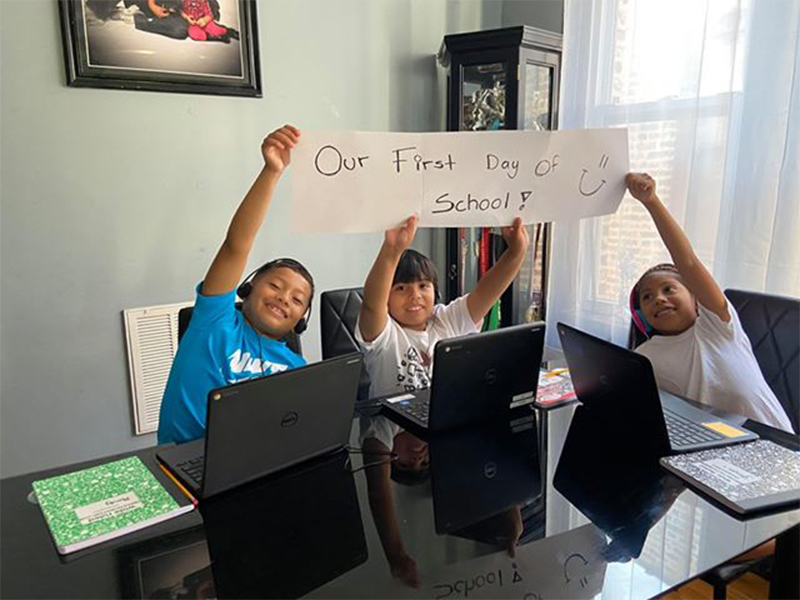 This school year, Christopher House early childhood scholars will have access to 115 minutes of live instruction per day, which far exceeds the guidelines set forth by Chicago Public Schools. Christopher House will continue prioritizing social and emotional learning and offer alternative times slots for fami- lies who cannot engage with live lessons during the regular school hours. The organization has also provided all elementary and middle school scholars with back-to school packs, including basic school supplies and gym and art materials to ensure they access the same well-rounded learning experience at home as they would in school.