CME Group Foundation Supports College and Career Success!
Announcement: CME Group Foundation Scholars application is open until April 4th! Spread the word to eligible college students you may know. Learn more here.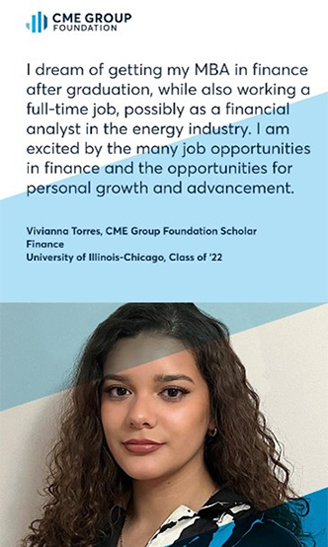 CME Group Foundation remains committed to supporting students to start on strong career or college pathways after high school. Our grantees are providing mentoring, scholarships, and internships for students. They are meeting students where they are at now, to help take them to where they are going. Our grantees are advocating for legislative changes and creating systems-level support that make college and career pathways more of a reality for all students. CME Group Foundation is proud to partner with organizations across Chicago that are committed to postsecondary success.
Congratulations to our College and Career Success grantees who were awarded grants this year:
Scholarship America
Genesys Works
Braven
America Needs You
Youth Job Center
Wall Street Bound
Greenwood Project
National Louis University
George W. Bush Foundation
Bottom Line
One Million Degrees
College Possible
University of Chicago Network for College Success
Better Future Forward
iMentor
One Goal
Posse Foundation
Associated Colleges of Illinois
Hope Chicago
Northern Illinois University Education Systems Center
Partnership for College Completion
Empower Illinois
University of Chicago Consortium on School Research
Advance Illinois