Black History Month: How Foundation Grantees Celebrated This Year
Organizations all across Chicago honored and celebrated Black History Month during February. From the roundtable on "Navigating as Black Faces in White Places and High Places" to literacy table pop ups with featured Black authors, the work of three grantees of CME Group Foundation is highlighted here.
America Needs You (ANY)
On February 16, CME Group's Kennan Mebane and Chelsea Alexis joined America Needs You and business school professor, international speaker, author, and entrepreneur Dr. Jeffrey Robinson in celebrating Black History Month. At the virtual "Navigating as Black Faces in White Places and High Places" event, Dr. Jeffrey shared tips for thriving in entrepreneurial settings while keeping one's identity and community top of mind, differences between entrepreneurial and intrapreneurial thinking, and the role technology can and will play in workplace equity. Students, alumni, and volunteers were able to debrief the discussion in small groups, sharing key takeaways and building new connections.
Dr. Jeffrey summed up the evening by highlighting the importance of mentorship and collective action: "I hope you're thinking about how to build your network and use power; I hope you are maximizing mentoring because mentoring is key to a lot of things; and I hope you're realizing the strength in numbers or, in this case, how you can bring power from organizing amongst yourselves and in allyship with other folks so you can make a difference. We call that leveraging our might."
You can watch a recording of the event here.
Carole Robertson Center for Learning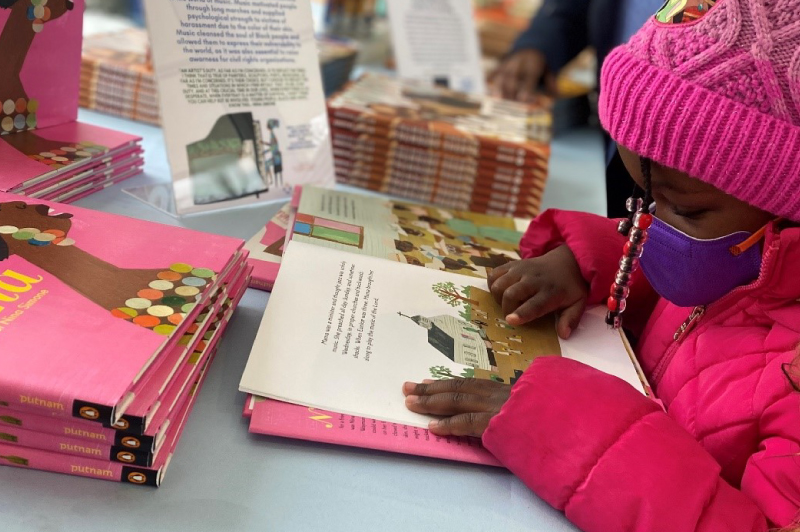 A child from the Carole Robertson Center for Learning reads "Nina, A story of Nina Simone" at one of our Center's Black History Month literacy pop-up tables.
Throughout February, and beyond, the Carole Robertson Center for Learning celebrates the lives, work, and influence of Black Americans to U.S. history and culture. Each year during Black History Month, the Center's Social Justice and Equity Committee implements an age-appropriate curriculum along with literacy pop-ups that uplift and center the many contributions of Black Americans past and present. This year's curriculum and pop-ups celebrated musicians of African descent (Black) and their contributions to the world of music. At each of our Flagship Sites, children and families stopped by Anti-Bias & Multicultural Literacy Tables to learn about musicians like Nina Simone, Beyoncé Knowles, and Troy "Trombone Shorty" Andrews! Each of these artists have used their music and artistry to inspire and contribute to social movements of their time.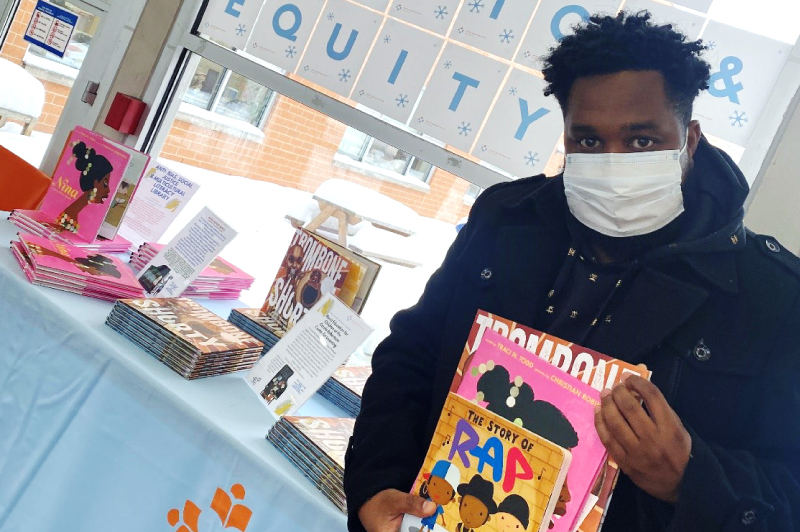 "Their music motivated people through long marches and supplied psychological strength to victims of harassment due to the color of their skin. Music has cleansed the soul of Black people many times and allowed them to express their vulnerability to the world, as an essential part of raising awareness for civil rights organizations and movements," said Candice Washington, Kindergarten Transition Specialist & Social Justice and Equity Committee Chair.
Computer Science Teachers Association
At the end of January, CSTA hosted a webinar entitled Black Excellence in CS, which you can watch here, and created a Black History Month Calendar, which celebrates Black and African American champions of computer science.
CSTA launched the Black Affinity Group, available to active members in the CSTA Online Community.
On April 2, CSTA will host the Spring 2022 Equity in Action summit with the theme "Commit to Inclusion." The one-day virtual event unites K-12 Computer Science teachers with a call to action to provide equitable computer science education rooted in representation, access, and justice. The home page provides more information about the summit keynotes: Sina Bahram, Jean Ryoo, and Jane Margolis. There is also information about the program schedule and the Equity Fellows. The full agenda is here. Learn more and register.